Update, 2017 puppies born.
Icelandic sheepdog puppies for sale.
The breed is: Friendly, loves people, medium size, loves to play and hike, loves to relax and cuddle, smart, quick to learn, courageous, adapt well, rare in the world, and is the native Icelandic dog.
The puppies are: Three boys and three girls, born 4. May 2016. Four of them will become red with some white markings, and two of them will become black with some white markings (see the colors of the parents to see the adult colors).
The father is: Fagrahvamms Rimmugýgur. HD: B1. Clear eyes. Good dog show record.
The mother is: Gerplu Ronja Nös. HD: A. Clear eyes. Good dog show record.
Buying and export: Is easy. And I help with the export process of course.  It's simple, most countries don't require quarantine from Iceland, and they simply go as cargo in a warm room in the passenger airplanes.
Information: We are located in Fljót, in northern Iceland, close to Siglufjörður/Hofsós/Sauðárkrókur/Akureyri.  Visits welcome by seriously interested possible buyers.
More pictures on the way as the puppies grow (they are just a few days old on the picture).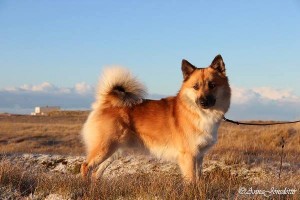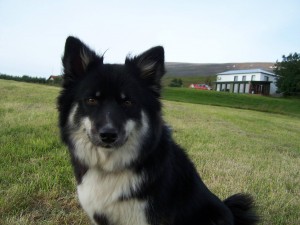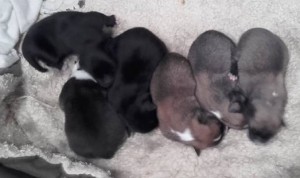 Hvolpar til sölu, íslenskur fjárhundur, Fljótum. S:8478716