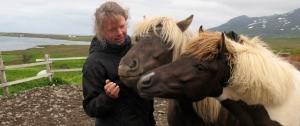 Farm visit with an Icelandic horse:
 Description:
What we do is a bit depending on the time of the year.  You visit the farm animals, in close contact (if you feel like it), with one of us the farmers here.  Yes, you get into a personal relationship with a wonderful, calm and friendly Icelandic horse, we'll tell you the story of the horse you're petting, and you get the best chance of a selfie with an Icelandic horse.  Our purebred Icelandic sheepdogs (our native breed) also love to be petted, it's the best thing they can ask for.  If our Icelandic sheep are stabled you can also see them, our hardy and funny breed, fast with the look of a goat, colorful and cute.
You get to know all sorts of things about being a farmer in Iceland, and how the life and farming is here, for the farm animals and the people on a family farm in Iceland.  What powers molded out hardy breeds?  How does the farming work out here, with harsh winters and a lot of open areas in the summer time, where the farm animals can enjoy a very free and natural life?  What about Iceland's history, culture, geology?  And you can ask about whatever you want to know, here you really get to meet the locals.
Are you dreaming about close contact with an Icelandic horse, it's intelligent and kind gaze, the endless colors in the breed, the soft summer hair or shaggy winter hair, the small size, and the history of the 1100 years old purebred breed?
Included is also a variety of Icelandic very old style Icelandic delicacies, local pastries and snacks, coffee and tea, in our lounge, so your group gets a light lunch, which is great when then travelling on further excursions.  .  This is fun all year round, because in the wintertime most of the animals are stabled and close encounters are easier than ever, and in the summer time it is fun to see the horses outdoors for a great petting and photographing time.  Travel agencies love the farm visits for their bigger groups.  Our stable and lounge is easily accessible so this also fits well for f.ex. elderly people.  This is also a popular option if you have a group where some people want to do a riding tour and others want to have a fun experience without riding.
No riding included
If there are special dietary requirements (f.ex. allergies, religious reasons, vegetarians, vegans or similar) please inform us.
Because of the costs of making the snacks, the farm visit is offered for groups that are a minimum of six people and no maximum number of people (the farm visits are though always a private tour, but if you have a big group feel free to contact us).
Duration of the Farm visit can be 2 hours.
Duration and price:
Can be 2 hours, is 5000 ISK (ca. 35 EUR/40$) per person (no Icelandic horse tour included, but the snacks are).
Meeting point:
The Langhus farm, where the roads 76 and 787 cross. Gps dots are N66°03.653 and W019°07.280 or 66,060942 and 19,121477
Add-on option:  The geothermal mineral bath:
On top of this it is super popular by groups of 10 people or less, to add on going to our indoor geothermal mineral bath (where you also can take a shower) for relaxation and fun, for maybe an hour.  You get that as a very cheap add-on option for 1900 ISK per person.