Guided Trail Rides
We Provide Your Own Personalized Adventure
OPEN ALL YEAR ROUND.
Our life is horse tours.  It's been our passion, all our life. To go out in the nature and be a team with the horse.  To see the beautiful places, and sometimes tough landscape, that molded our beloved Icelandic horse. To have the companionship of other horse lovers, and to just live and breath the fresh air in the nature, and feel the rhythm of life.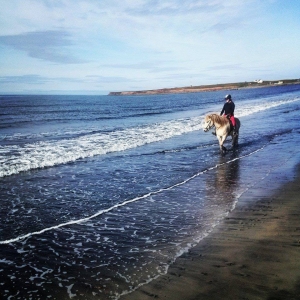 We offer guided horse tours with one of us, the local farmers at Langhus farm, and our assistant guides.  We have well trained horses, steady and obedient, they are our family and work horses, and some of them have been used for competitions, they are happy, well taken care of, and live a fulfilled life.  We take the time to match you with the right horse for you, and to give good instructions about riding so you can enjoy the tour better.  We keep this on a personal level, so people can see the Icelandic nature, the background of the horses and what made them what they are (the sometimes harsh and sometimes wonderful nature, the breeding, the people and the culture), get lessons if they want, get to know excellent horses and visit an Icelandic farm on the real countryside. We operate all year round.
We have several tour options to give ideas. But like when travelling friends are planning a trip, you can design the tour with us.  You choose with us which way you want to go, on what kind of horses, how long, how challenging, you can also come for several days on rides. We can help with accommodation, with other things to do when not riding, etc. Just feel free to contact us and we make something wonderful together, and more important, have fun.
Our groups are usually small and at the speed and difficulty that fits our guests.  But if you have a bigger group, then we can now accommodate groups of 15 riders, and in 2017 we can take bigger groups than that.
Browse through our tour ideas, they are a great starting point when creating your own tour
Finding Your Dream Horse
– Personal assistance –
– No agency or service costs –
In our area, Skagafjordur, there are thousands of horses, and a few dozen very good breeding farms and training farms. You can join me (Lukka) in my car and I take you to a group of farms, looking at maybe 20-30 handpicked horses (depending on what kind of horse(s) you are looking for) during 2-3 days, and it's free for the horse buyer.  We have run this service since 1997, and built up a reputation and history for horse-knowledge, honesty, credibility and experience.  Our history of happy customers says it all.  And, people ask me all the time, isn't export complicated?  But, export is easy, I help with the whole process.  It is easy to come to us, you can come with a bus, or take a domestic flight to Akureyri (town close to us), where we can fetch you.
The group of sale prospects in our area is so big and changes fast, so we just have a handful of horses on the saleslist on our page.  So, you might see an interesting prospect here below.  If not, we might know about your dream horse, several that are prospects, or, given a bit of time, we will usually find it.
kristin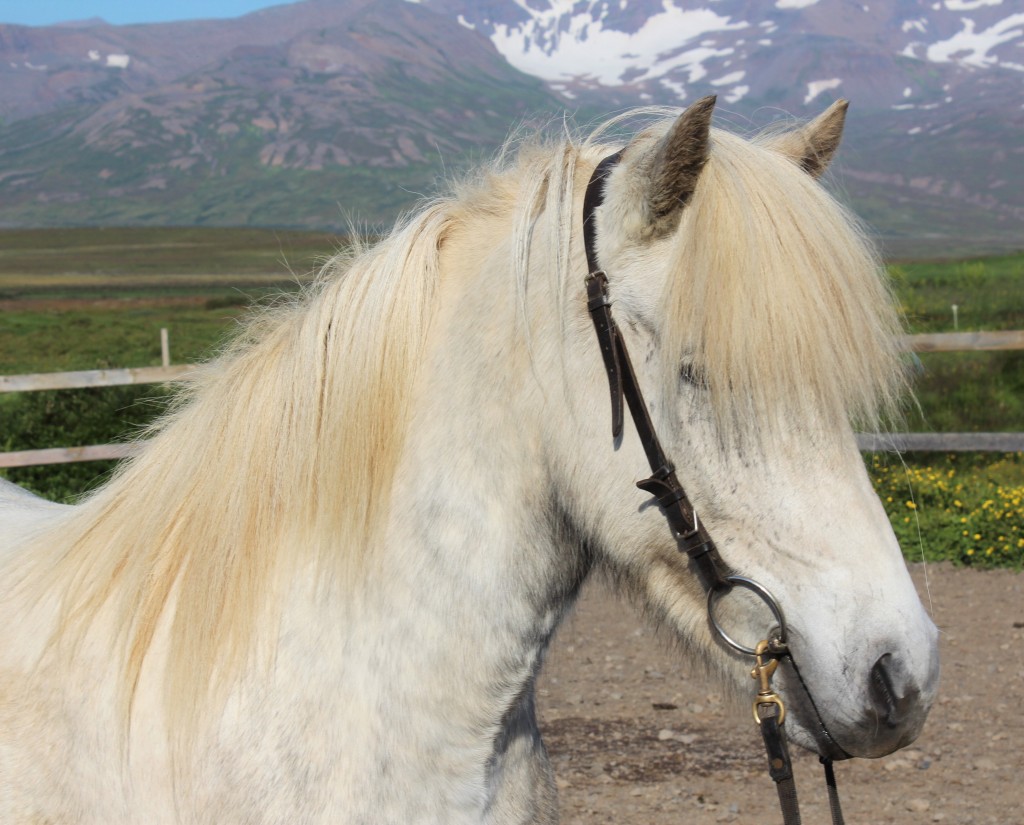 Ísafold is a trained mare with good pedigree, but not fully trained tolt, so the price is fair.  This mare has a good go, nice energy and is a joy to ride for the experienced rider, [...]
"3 month ago i bought my first horse, Fiton, and fulfilled a long dream of mine. Originally he is from your stud. He is a wonderful horse. very friendly, adorable and a great horse for the whole family. I love him a lot and I hope that we will be a great team for the rest of our lives. I only wanted to say this. Thank you"
"Lukka, I am very happy with you ♥ and these 6 horses, you found really perfect ones for my purposes!!! 🙂 They all listen well, are not hard from the mouth, nice and easy to ride and kind with people! 🙂

I surely can recommend and I already have recommended you to many people!!! You are very kind, professional and you know a lot of the horses and owners around, and what is also good, there are so many horses around Saudarkrokur!

Big hugs to you too my dear icelandic friend :)"
"Just wanted to let you know news of Gjof. She is great, I have ridden her about 6 times now and we are learning together. She is exactly what i had hoped for, calm and not spooky but fun and talented.

Wanted to thank you for your help in finding her."
"I have bought 5 horses from Lukka over the years! Lukka has been a very nice and helpful guide and friend and she never gives up on finding the right horses. She always has good suggestions and always eager to help and find answers on my sometimes a little crazy questions. She and her family have always been very friendly and I really appreciate very much their hospitality when I have visited them on their beautiful farm at Langhus looking for or visiting horses. She puts her heart into her business and I always feel a great trust and happiness doing business with her."
"I have been buying horses from Lukka and Langhus for 14 years and have always been so happy. Lukka is honest and fair. I give her and her farm a huge thumbs up for those looking for an Icelandic horse."
"Honesty. Unfortunately, all too rare in the horse world, but Lukka has it. Our mare from Langhus has given us much joy as a riding horse and she also gave us two wonderful young offspring to ride. Credit where credit is due."
"Hersir is very well. He is wonderful horse that I really love: ) He is so fine, very lively and curious, very willing to please. You wrote me a good description of him and he has just all those good qualities : ) Last year was succesful competition year. We got at Finnish Championchips silvermedal in fourgait and fith place in T1. We were chosen in Finnish Team to ride in Norway at NC, but I decided not go to so heavy journey. We also competed in Speedpace and got many medals from these too. Hersir does also work couple of hours a week with disabled children and enjoying it. He is just a lovely personality, the horse of my life :)"
"Djasn is a very lovely horse with an super character, big temperament and easy to ride. Thank you very much for this beautiful horse. "
"Hi Lukka, all the horses that came from you are very nice horses and we get along well with them.
All the horses are very nice to handle for all riders. Thank you very much for finding these fantastic horses, they are just the right kind for us, good family-horses."
"Just want to tell you, that Kvistur is a great joy. Everyone who watches me ride him, admires him and the few trainers and icelandic horse people I allowed to ride him, really liked him a lot. His tolt is coming along nicely. He works for me without being hectic, is friendly and pretty. Has grown a lot and gets stronger every day. Nothing to be desired. "
"We are very content with Paeja. Yesterday the trainer here started to train Paeja a bit and feels the same as us. He smiled all the time. She is very talented for her age and former training. She is fast in tölt and everything, and she has an absolutely clean beat in all tempos and she has very wellseparated gates. Her spirit is very high and she will be a great riding horse that everybody can ride. But of course a good looking competition horse and breeding horse too. She is confident and not afraid of anything, just a little bit young horse that needs to be educated a bit. And she also begs politely for sweets!!??? We love her. Thank you Lukka for a super horse."
"Lukka, jeg er så glad for Dama. Vi lærer hinanden at kende fra dag til dag. Hun tølter fint afsted i middeltempo, og selv når det er sand og bakket i klitterne, så kan jeg holde hende i den dejligste tølt. Hun og jeg bliver bare bedre fra hver ridetur. I dag har Dama været med til årets juleridetur i silende regn. Med over 30 heste. Hun gik i traileren uden nogen problemer. Det hele var meget spændende og hun var levende og nysgerrig. Da hun havde fundet sig til rette i flokken "slappede" hun af, og var super skøn at have med. Der red en ung pige op på siden af hende og sagde til mig, at Dama var meget smuk – så ædel ud. Selv synes jeg hun er verdens smukkeste hest, men sådan er det vel med de stolte ejere. "
"Här går det så fint med Skissa, och jag har nu äntligen fått tid att prova Skissa! Hon var MYCKET TREVLIG att rida, hon gick tryggt fram över järnvägen, förbi konstiga soptunnor, postlådor….utan att ens titta! Hon kändes väldigt trygg & säker att rida!"
"Aska har det fint, hun er en super hest og meget dejlig at ride. Jeg rider nu på hende 2-3 gange om ugen og rider meget i skoven – det har hun helt vænnet sig til. Hun har det bedste sind og hun er meget villig til at gå – jeg er meget meget glad for hende."
NEWS FROM THE LANGHÚS FARM
WE HAVE A FEW SPACES LEFT ON OUR HORSE TOURS ON 29. JUNE, 30. JUNE, 3. JUNE AND 5. JUNE, that is, in the LANDSMOT [...]