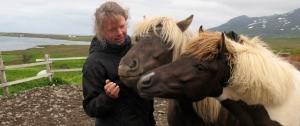 Farm visit with an Icelandic horse:
 Description:
TOUR OPERATORS that want to give their groups a unique experience, we have the Farm visits.  It is a great choice for groups of ca. 16-45 people.
In short, this is about: 
Getting to know the amazing Icelandic horses close up.
Meeting locals and visiting a working family horse farm.
Having a 2 course light dinner with traditional Icelandic delicacies.
You can ride on an Icelandic horse in an arena (not out on trail).
Taking selfies and pictures of horses.
Having the perfect chance to ask the questions you have about Iceland.
The lunch consists of:
Freshly baked traditional Icelandic waffles, with a selection of: Blueberry jam, rhubarb jam, cream, pancake syrup, maple syrup, Nutella chocolate, and butter.  It's an all-you-can-eat-waffle lunch.
As a dessert there is the unique Icelandic milk product, the skyr, which is so tasty and famous.
Available for groups of ca. 10-45 people.
Good time frame for the whole stop here: Ca. 1.5 hours.
Free lunch for the guide and driver.
In more details:
Us the hosts live on the farm all year round and are full-time professional horse breeders/trainers and doing horse tours all year round, and own 90 horses.  We are born in Iceland, and our children are the 5. generation on the farm.  Our staff is also horse crazy people that love everything about horses and Iceland.
This is fun all year round, because in the wintertime most of the animals are stabled and close encounters are easier than ever, and in the summer time it is fun to see the horses outdoors for a great petting and photographing time.  Our purebred Icelandic sheepdogs Pila and Dama also love having visitors.  Travel agencies love the farm visits for their bigger groups.  Our stable and lounge is easily accessible so this also fits well for f.ex. elderly people and is also wheel chair accessible.  This is also a popular option if you have a group where some people want to do a riding tour and others want to have a fun experience without riding.
Your people can also ride for a few circles in our riding arena, it's a fun moment to get in touch with a horse and get a picture of yourself on horseback 🙂
Our lounge can take 16 people in seats, so if groups are bigger then people take turns, one group at a time having dinner and another group having fun with the horses.
No outdoors riding included
If there are special dietary requirements (f.ex. allergies, gluten intolerance, religious reasons, vegetarians, vegans or similar) please inform us and we'll see what we can do, we are very experienced in providing tasty alternatives.
The farm visits are always a private tour for your group.
Price:
7 200 ISK NET for tourist agencies/tour operators (full price is 9000 ISK BRU), with 20 % commission.
Meeting point:
The Langhus farm, where the roads 76 and 787 cross. Gps dots are N66°03.653 and W019°07.280 or 66,060942 and 19,121477