Guided Trail Rides
We Provide Your Own Personalized Adventure
OPEN ALL YEAR ROUND.
Our life is horse tours.  It's been our passion, all our life. To go out in the nature and be a team with the horse.  To see the beautiful places, and sometimes tough landscape, that molded our beloved Icelandic horse. To have the companionship of other horse lovers, and to just live and breath the fresh air in the nature, and feel the rhythm of life.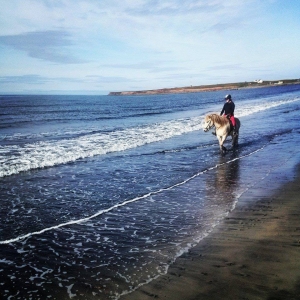 We offer guided horse tours with one of us, the local farmers at Langhus farm, or our assistant guides.  We have well trained horses, steady and obedient, they are our family- and work-horses.  They are our friends, they are happy, well taken care of, and live a fulfilled life.  They are of the breed The Icelandic horse, the horses the Viking settlers brought to Iceland a thousand years ago.  We take the time to match you with the right horse for you, and to give good instructions about riding so you can enjoy the tour better.  We keep this on a personal level, so people can see the Icelandic nature, the background of the horses and what made them what they are (the sometimes harsh and sometimes wonderful nature, the breeding, the people and the culture), get a little lesson, get to know excellent horses and visit a true Icelandic family horse farm on the real countryside.  Join us as we share what is unique about our horse and Iceland.  We are open all year round.
We have several tour options to give ideas. But we love to hear about your background and preferences, it helps us choose a horse that is great for you personally.  We emphasize on a personal experience and small groups.  The small group size allows good levels of dialogue along the way.  Just feel free to contact us and we make something wonderful together, and more important, have fun.  Our niche is creating unique, intimate, authentic experiences, off the beaten path.
Also, it always takes a few minutes extra to prepare you for the tour, and it's not fun for you to be in a hurry. We do a little riding lesson before the tour itself starts, so if you are beginners you learn a bit about how to ride, and experienced riders learn how to ride the Icelandic horse. That is helpful and fun for everybody.  So, the whole visit/experience here can easily take 30-90 minutes more than the trail ride itself.
Animal welfare is also a priority for us, each horse never goes on more than 1 tour per day, and we give them at least 2 days off per week. They also get at least 2 months of vacation every year.  They have big grassy pastures to roam on, and top quality hay in the winter time.  They live a very natural life in big herds.
Eco-consciousness is also a priority on our farm, to minimize trash, pollution and strain on nature.
On our website you also find other experiences than rides, like the geothermal mineral bath, the waffle snacks (with home made jam from Icelandic nature), and the farm visits.
Our groups are usually small.  But if you have a bigger group coming together, then we can now accommodate groups of up to 20 beginner riders, and 25 if some in your group are experienced.  We also have programs for even bigger groups than that.
We focus on delivering the highest quality experience for our clients, which is why bookings are done through our contact form on the website, so we can share details with each other to create your personal experience.
Tour options:
THE VIKING TOUR (Best seller)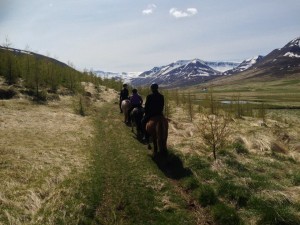 Riding the ancient and historic Icelandic horse is something you have to experience at least once in your life, the horse the vikings loved and rode proudly.   We ride in green valleys surrounded by striking mountains, in heaths and meadows with good views, showing the unique Icelandic landscape in a nutshell, in the magnificent Flokadalur valley.  And you can ask and hear more about the culture and everything your heart desires regarding Iceland.  This tour is ideal and popular for both beginners as well as for more experienced riders.
Duration of the ride is ca. 2 hours (and the whole experience can be ca. 3 hours).
This has been a very popular option for mixed groups (where groups of beginners and very experienced riders want a good ride together).
THE BLACK BEACH RIDE (Best seller)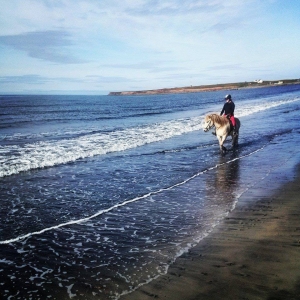 We ride through moors and gorgeous open landscapes, where there is a good opportunity to learn about the nature and the history of our area.  There is abundant birdlife on this trail throughout all summer, and one can see well how people's lives here are twined together with the nature in a beautiful way. This tour is ideal and popular for both beginners as well as for more experienced riders.  Duration of the ride is ca. 2 hours (and the whole experience can be ca. 3 hours).
This has been a very popular option for mixed groups (where groups of beginners and very experienced riders want a good ride together).
A LITTLE BIT OF EVERYTHING TOUR (best seller)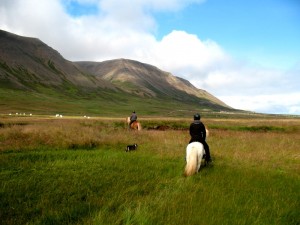 In this tour we combine experiences from several of our most popular tours, the beach ride, the viking tour, even the river ride.  We'll ride in a big circle,  through land with meadows, on the beach, go up the beautiful and striking Flokadalur valley, overlooking a lake and mountains and highlands, crossing a river one or two times, go at slow speed and faster speed, and take a good break for refreshments, chatting, and a bit of commentaries or questions, whatever your heart desires.  Good for both experienced riders and sporty beginners.
This has been a very popular option for mixed groups (where groups of beginners and very experienced riders want a good ride together).
It's 3,5-4 hour total. (where the whole experience can be 4,5 hours).
THE GEOTHERMAL MINERAL BATH (best seller)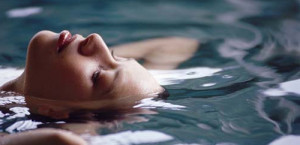 An indoor hot tub with 30 % crystal clear spring water from the Barð mountain, mixed with 70 % mineral rich water from the Langhus hot spring.  It is a pleasure after the ride, for relaxed muscles and clean body and soul.  Good for your skin, healthy and relaxing.  Great to get invigorated soft muscles, and a clean body, after the ride.
It is common that people take an hour for this experience, but you just take your time and enjoy.
THE FAMILY TIME – GREAT OPTIONS FOR FAMILIES WITH SMALL CHILDREN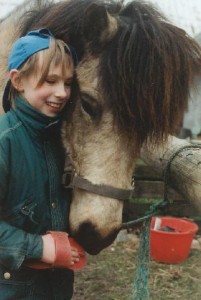 For people that want to have a fun experience with the Icelandic horse, even if they have children that are too young to go out on a long ride.  The age limit for the two hour tours is 8 years, but you can still ride by taking the Family time tour (in the paddock, and possibly on the trail).  Everybody gets in close contact with the horses, the children help us with brushing the horses and saddling them up, we lead them on the horses in a paddock and teach them to control the horse, and the adults of course learn at the same time, and we chat and share experiences and info about the Icelandic horse and everything. The adults also get the chance to ride a bit if they want.  We have several different popular options described, just push on the Read more button.  Duration 1 hour, and the visit can be made into a 1 1/2 or 2 hour experience.
THE SHORT TOUR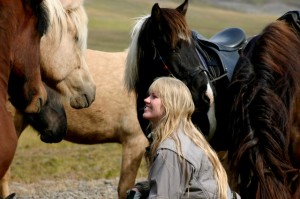 Are you short on time, but want to squeeze in a fun experience and ride the famous Icelandic horse?  We offer a tour that, designed to be an enjoyable experience for beginners that do not have much time.  The whole experience begins with an intro on how to ride the Icelandic horse, then a lesson where you ride your horse and practice how to control the horse so you and the horse can be a good team for the ride.  Then you go out on an approx. 1 hour ride at a slow and safe speed (the horse goes in the gait "walk").
Duration of the whole experience (intro, lesson, ride) is ca. 1 1/2 hours.
FARM VISITS (TOUR OPERATORS – GREAT CHOICE)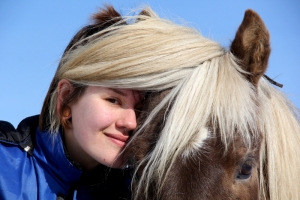 TOUR OPERATORS that want to give their groups a unique experience, we have the Farm visits.  It is a great choice for groups of ca. 16-45 people.
In short, this is about:
Getting to know the amazing Icelandic horses close up.
Meeting locals.
Having either a great traditional Icelandic dinner (f.ex. lamb steak) with dessert, or home made pastries.
If you want to, to ride on an Icelandic horse in an arena (not out on trail).
Then you also have a lovely opportunity, in a cost effective way, for feeding your group at the same time as they have fun, as included is also a variety of either (you choose one of these options):
A traditional Icelandic Sunday dinner:  Lamb steak (from the sheep on the farm), salad with locally produced sheep cheese and Icelandic vegetables from Iceland's hot spring heated green houses, and mashed potatoes.  Chocolate cake as dessert, also coffee and tea.  Available for groups of ca. 30-45 people.
Icelandic very old style Icelandic delicacies, home made local pastries and snacks, coffee and tea.  Available for groups of ca. 16-45 people.
Good time frame for the whole stop here: Ca. 1.5 hours.
Free lunch for the guide and driver.
THE WILD, FUN – AND LUXURIOUS- SHEEP ROUND UPS TOUR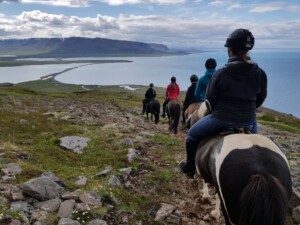 The Icelandic horse is fun, a good survivor, extremely good at coping with rough terrain, and it is so fun to become a team with your horse and dive into Iceland's wilderness with your hardy steed.  The Icelandic sheep stock has been isolated on this rough island for over a millennium, and they have evolved into extremely good survivors. They are shy and agile like mountain goats and can almost outrun a galloping horse. Released into mountains and wildernesses in early summer, sheep are herded back to the lowlands before the winter sets in, corralled and returned to the home farms. The locals and their friends team up in the fall for this fun challenge, and we welcome you to join us and become an Icelandic shepherd on horseback.  But… this tour is cool on the tours and with a wonderfully comfortable accommodation and food.  Sóti Lodge is a quality lodge in the heart of Fljotin at the tip of the Troll peninsula. The lodge offers high quality, comfortable accommodation, personal services, renowned gastronomic experiences and beautiful scenery with breathtaking views of rugged mountain vistas and the Arctic Ocean. Entrance to the geothermal pool next door is an added bonus to your stay.  For more information and booking, follow this link to the Sóti website:
WE MAKE YOUR IDEA A REALITY – For luxury TOUR OPERATORS – and everybody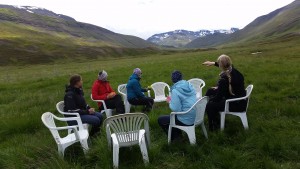 Do you want some different kind of day tour?  Are you planning for a small or big group and have vague or clear ideas about what you'd want them to experiences?  Do you want us to do something that fits especially for your group?  Bring on your wishes and we'll plan a fun tour for your group.
TOUR OPERATORS:  Do you have special clients that want top quality tours with extra attention, with their special wishes in mind?  We're at your service, and doing the Viking tour as a private tour for selected people that are used to top experiences is f.ex. a very popular choice by luxury tour operators  – we're your top choice for a horse tour – we have specialized in luxury customers for the last 10 years – just look at the reviews we have gotten through the years.