Laufskalarett Icelandic horse roundup tour 2019
Description:
Join us for the biggest horse roundups in Skagafjörður.  We ride with the locals and bring home their horses to the roundup in Laufskálarétt, Hjaltadalur. Every year 2,500-3,000 people come to spend the weekend in Skagafjörður and to be a part of the great Laufskálarétt event.
Next time it will be the horse roundup 2019.  The participants have to be intermediate riders or experienced riders. Usually people book 1-2 more daytours with us prior to the roundups, so they can get used to their horse and have a bigger experience.  It's safer and more fun.
On the Laufskalarett day, 28. September, we start the day in the morning with others going to join the roundups ride, at Sleitustadir.  We go then in a group of a few hundred riders, by an excellent gravel path, and gradually we see the highlands better, we will see how the huge groups of horses flow over the meadows to join together in a bigger and bigger river of horses, with a bigger and bigger river of riders flowing with them, we join the men rounding up the horses, and we become a part of the flow.  It is impossible to describe the feeling of joining such a stream of horses and people in a happy feeling of the moment, one can only live it, and seeing everything happening in the corral, the whole event involving several hundred horses and several hundred people 🙂  Then we unsaddle the horses in a pasture next-door to the Laufskalarett corral.   We stop for a picnic break.  We provide snacks that are f.ex. pastries and sandwiches, some traditional Icelandic delicacies, some of them are homemade.  , and have included lunch and refreshments to eat and drink.  We go then to the corral and watch as the farmers find their horses and part them so each farmer gets his own horses together in a herd.  It is then optional to either get a lift and fetch your car, or to ride back with us to where the whole thing started (where we then end up by having another go at the refreshments).  The whole experience lasts a full day.
There are also more events connected to the Laufskalarett weekend, like a spectacular horse show event in the Saudarkrokur riding arena on Friday evening, a huge dance party (1-2000 participants) in Saudarkrokur on Saturday evening, open houses at horse farms in Skagafjordur, a horse competition in Saudarkrokur, and more.  We can give you advice on how to join these events.
Duration and price:
Included:
Riding equipment, saddle, bridles, helmet.
Lunch and refreshments (sandwiches, pastries, coffee, hot chocolate, tea).
Not included:
Flights to and from Iceland
Car transport
Alcohol beverages
Riding clothes: pants, boots, jacket, gloves and etc.  We have a few sets of rain clothes but not many.  Remember that you can not bring used leather things that have been around horses (like leather boots) into the country because of disease risk.  Only horse things that have gone through a full washing cycle in the washing machine can enter the country.  But people also come on the rides simply in hiking boots, sneakers, or decide to buy a new set of riding boots.
Price 100 000 ISK (ca. 750 EUR/ca. 900 $).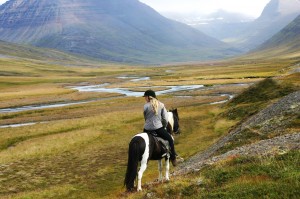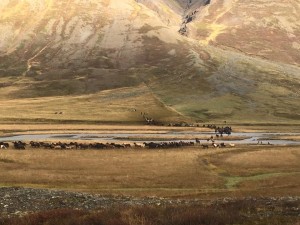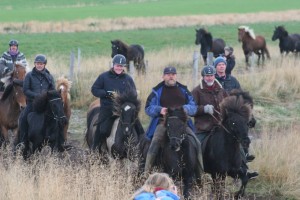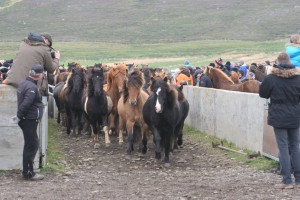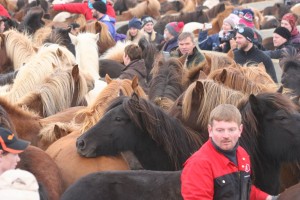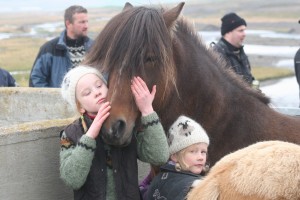 Fantastiskt att se alla hästar på väg ner till Laufskalarett

Posted by Frida Lindström on Sunday, 27 September 2015