LAUFSKÁLARÉTT HORSE ROUNDUP TOUR 2022
Description:
Join us for the biggest horse roundups in Skagafjörður. We ride with the locals and bring home their horses to the roundup in Laufskálarétt, Hjaltadalur. Every year 2,500-3,000 people come to spend the weekend in Skagafjörður and to be a part of the great Laufskálarétt event.
Next time it will be the horse roundup 2021. The participants have to be intermediate riders or experienced riders.
We are cooperating with two accommodion places in the neighborhood, one is guesthouse Gimbur, the other one is Sóti lodge.  Both places are quite luxurious, we can book from a range of rooms there, but the price depends a bit on what kind of room you'd like.  Both places offer great meals on the evening where we're not having the get-together dinners at Langhus.  So, you can choose the number of nights and the type of accommodation and meal plans that you prefer, and get the personal price for your combo tour.
This is the basic plan:
On day one, Wednesday 21. September, arrival time at 2 PM, you come for a 3,5 hour ride (the A little bit of everything tour described on our website), you get a basic introduction to the riding here, we fit the saddles and pick out horses that are a good fit for each rider. We have a dinner for you on that evening, it is a fun way for everybody to get to know each other better, and if you've been travelling far that day before the ride, it's great not to have to think about planning dinner that evening.
On day two, Thursday 22. September, arrival time at 10 AM. You come for a 5 hour ride, and then we go on a tour which is called the Wilderness ride, if the weather is mild and it has not been raining much in the last couple of weeks before the tour, we can also go the River ride trail. These tours are not described on the website, as they're just for special occasions 😉 This will be a long tour with nature and beauty and a bit of speed and also a good break with included refreshments and serenity. We end up with waffles on our farm, so you have a light lunch there at the end of the day, and you can enjoy our geothermal mineral bath after that.
On day three, Friday 23. September, you go for a sightseeing tour on your own (but we can help with planning of course). Going whale watching (Dalvík or Húsavík towns have great operations for whale watching), and to Myvatn and Akureyri is f.ex. popular. Or seeing the horse museum at Holar, or go to the natural bath of Grettislaug or Reykjafoss (Fosslaug), or the the Hofsos swimming pool. Meanwhile we prepare the big day on Saturday. There is traditionally a big, very popular, horse event happening at Saudarkrokur this evening, which we include as one of the highlights of your visit here (we provide the tickets).
On day four, 24. September, we start the day in the early morning with others going to join the roundups ride, at Sleitustadir. We go then in a group of a few hundred riders, by an excellent gravel path, and gradually we see the highlands better, we will see how the huge groups of horses flow over the meadows to join together in a bigger and bigger river of horses, with a bigger and bigger river of riders flowing with them, we join the men rounding up the horses, and we become a part of the flow. It is impossible to describe the feeling of joining such a stream of horses and people in a happy feeling of the moment, one can only live it, and seeing everything happening in the corral, the whole event involving several hundred horses and several hundred people. Then we unsaddle the horses in a pasture on a farm next-door to the Laufskalarett corral, and have included refreshments to eat and drink, a good lunch with sandwiches, pastries and more. We go then to the corral and watch as the farmers find their horses and part them so each farmer gets his own horses together in a herd. We then give your driver(s) a lift back to Sleitustadir at 3 PM, after which it is up to you if you want to stay longer by the corrals or do something else. The whole experience for day 4 lasts a full day.
On day five, 25. September, we add on one more gorgeous experience: Going the old medieval highland trail, a very dramatic route, up to the Siglufjordur mountain pass. There will be some very light snacks in a picnic break.  Or if there is already snow in the pass, we go a different awesome trail, up the beautiful Holtsdalur valley.
In the evening we end up with a dinner to have a final celebration together.
We do lots of tölt (rack) and trot, some walk, some opportunities for gallop for those that want that.
Included:
Program with riding tours for 4 days + ticket to the horse show/event + picnic or snacks in the riding tours + dinner on September 22. and 26. + the Langhus geothermal mineral bath.
Riding equipment, saddle, bridles, helmet.
Accommodation at Gimbur guesthouse or Sóti Lodge from september 21.- september 25 (4 nights).  There are geothermal hot tubs there.  All rooms are beautiful with great beds, but you can get a bit of extra luxury for a bit higher price (having a single room, a bigger suite, things like that).
Breakfast is included.
Going once to the Langhus indoor geothermal bath, and using that is a free add-on to the rides, we can make a plan with the participants so it doesn't get crowded there.
Not included:
Flights to and from Iceland
Car transport
Alcohol beverages (we can provide wine or beer with dinners if booked on beforehand).
Riding clothes: pants, boots, jacket, gloves and etc. We have a few sets of rain clothes but not many.
Other meals, but both accommodation places offer extra dinners for an extra price.
I advice bringing rain proof rain wear (not water resistant) in case we get rain (most days in September are though usually without rain in our area). Remember that you can not bring used leather things that have been around horses (like leather boots) into the country because of disease risk. Only horse things that have gone through a full washing cycle in the washing machine can enter the country (so if you want to bring your own helmet it has to be brand new and unused). But people also come on the rides simply in hiking boots, or decide to buy a new set of riding boots, and helmet, they usually get handy later anyway.
You can either come with the bus and we pick you up for the drives back and fort from the bus stop, and back and forth from the guesthouse, for a fair fee (just the cost of gas really). Sometimes when there have been coming more than one participant that is coming on his/her own, I've gotten them in contact with each other so they can then rent a car together, so they can do some excursions also at the time of the day when we're not riding 🙂
Price:
230 000 isk (ca. 1450 EUR / 1750 $) with a basic but comfortable double room (if you're coming solo you might have to share a room).
More luxurious accommodation offers against an extra price.
More information:
I'd need 50 000 isk as downpayment/deposit within two weeks of booking.  It's paid through IBAN transfer in bank, or Paypal, whatever you'd prefer.  Then you can pay the rest later, at the latest upon arrival (be sure that your credit card will handle that if you want to pay upon arrival).
If you want to book, you please fill in this information for me:
Name.
Height and weight estimate (it helps me choose horses for the participants).
Experience level (some details, like if it's with Icelandics or other breeds, and if only with other breeds, what kind of riding you've been doing, and some estimate on how much riding you've been doing… I don't expect expertise, this info just helps me personalize the tour and choose horses that are hopefully good for you.
Age idea (mostly if there are kids or teenagers coming, or adults).
If there is some extra you would like me to know (if people are scared riders, or prefer fast horses, or have a weak hip, food allergy, can't speak English and then if they speak Swedish or something I can make myself understandable in, etc etc, it can vary if or what people would like me to know).
If there are special diet requirements, we will try our best to accommodate special needs.
There are also traditonally more events connected to the Laufskalarett weekend, like a huge dance party (1-2000 participants) in Saudarkrokur on Saturday evening, open houses at horse farms in Skagafjordur, a traditional Icelandic cake buffet at a museum 10 minute drive from the corral, a horse sales show in Saudarkrokur (fun to see, not necessarily to buy but just to see cool horses), a horse competition in Saudarkrokur. So, a few days before the weekend I will have the details for how this will be in 2021, anyway there might/should be more fun stuff to do than in our tour description 🙂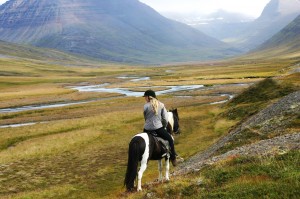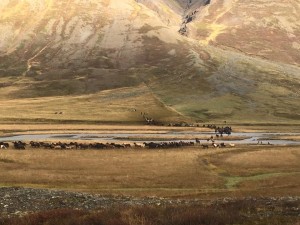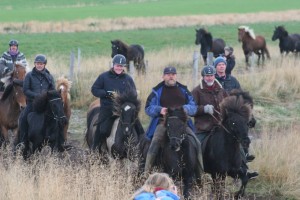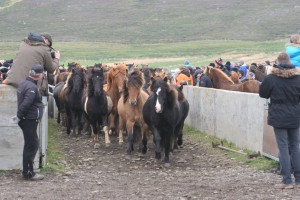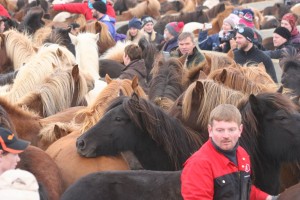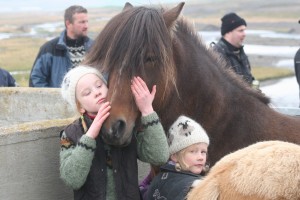 Fantastiskt att se alla hästar på väg ner till Laufskalarett

Posted by Frida Lindström on Sunday, 27 September 2015