Laufskalarett Icelandic horse roundup tour 2020
We'll do a longer tour (than was done 2019) on Thursday, we'll make better picnics and more stuff to make this an even better package than we've done earlier, and we're offering tours on more days.  Now we do better for a similar price per person as 2019.  The main goal is doing a comfortable and personal experience that is a thrill, made for competent riders that want to experience the essense of Iceland and the Icelandic horse.
You pick from the list of days, and can do a 5 day or up to 7 day program, depending on your preferences.
There is all sorts of program happening each year in connection with this weekend, it becomes a rural countryside and small town celebration in the area 🙂 So on Thursday evening 2019 there was f.ex. a sales show in Saudarkrokur, and the participants on our tour went to see that, not to buy but just to see cool horses 🙂 And on Friday 2019 three farms had open houses, so the participants on our tour went to all these farms 🙂 On Friday in 2018 there was a big horse competition in Saudarkrokur. So, a few days before the weekend I will have the details for how this will be in 2020, most likely this will be repeated, or some details might change, anyway there might/should be more fun stuff to do than in our tour description 🙂
The dinners are a fun way for everybody to get to know each other better, also if you've been travelling far that day before the ride, it's great not to have to think about planning dinner that evening.
Before you ride with us for the first time we start with a little lesson/introduction to riding our horses, tailor suited to your background (so you arrive an hour earlier than the show-up time for your first tour).
All timings are the show-up time, arrival time.  Come then, or 10 minutes earlier (too late can be a problem, but coming a lot earlier and you just have to wait).
Description:
Join us for the biggest horse roundups in Skagafjörður. We ride with the locals and bring home their horses to the roundup in Laufskálarétt, Hjaltadalur. Every year 2,500-3,000 people come to spend the weekend in Skagafjörður and to be a part of the great Laufskálarétt event.
Next time it will be the horse roundup 2020. The participants have to be intermediate riders or experienced riders.
Day 0: Sunday 20. September.  Arriving to guesthouse Gimbur.  Then you can come to me in the evening for a simple dinner at 7 PM (19:00), so we can meet each other and start the whole thing.
Day 1:  Monday 21. September.    9 AM (9:00)  A 3 hour ride, a tour that used to be called the Icelandic country life tour.  Picnic included.
Day 2:  Tuesday 22. September.  9 AM (9:00).  3-4 hour ride, probably a tour called Sótahnjúkur/Brunnárdalur.  Light snacks provided.
Day 3: Wednesday 23. September.  9 AM (9:00).  You come for a 3,5 hour ride (the A little bit of everything tour described on our website. We have a dinner for you on that evening.
Day 4: Thursday 24. September.  11 AM. You come for a 5 hour ride, and then we go on a tour which is called the Wilderness ride (the whole experience can be 6 hours), if the weather is mild and it has not been raining much in the last couple of weeks before the tour, we can also go the River ride trail. These tours are not described on the website, as they're just for special occasions 😉 This will be a long tour with nature and beauty and a bit of speed and also a good break with included refreshments and serenity.  Picnic provided.
Day 5: Friday 25. September, you go for a sightseeing tour on your own (but we help with planning of course, going whale watching, and to Myvatn and Akureyri is f.ex. popular, or to the natural bath of Grettislaug, or the the Hofsos swimming pool) while we prepare the big day. There is a big, very popular, horse event happening at Saudarkrokur this evening, which we include as one of the highlights of your visit here (we provide the tickets).
Day 6: Saturday 26. September, we start the day in the morning with others going to join the roundups ride, at Sleitustadir, show up time there at 9:30. We go then in a group of a few hundred riders, by an excellent gravel path, and gradually we see the highlands better, we will see how the huge groups of horses flow over the meadows to join together in a bigger and bigger river of horses, with a bigger and bigger river of riders flowing with them, we join the men rounding up the horses, and we become a part of the flow. It is impossible to describe the feeling of joining such a stream of horses and people in a happy feeling of the moment, one can only live it, and seeing everything happening in the corral, the whole event involving several hundred horses and several hundred people Then we unsaddle the horses in a pasture on a farm next-door to the Laufskalarett corral, and have included picnic to eat and drink, a good lunch with sandwiches, pastries and more. We go then to the corral and watch as the farmers find their horses and part them so each farmer gets his own horses together in a herd. We then give your driver(s) a lift back to Sleitustadir at 3 PM, after which it is up to you if you want to stay longer by the corrals or do something else. The whole experience for day 6 lasts a full day.
Day 7: Sunday 27. September.  1 PM (13:00). Going the old medieval highland trail, a very dramatic route, up to the Siglufjordur mountain pass.  Light snacks provided.  Dinner at Langhus, provided by us, in the evening.
Day 8:  It will be possible, if you are looking to buy your dream horse in Iceland, to join us on that day on a round tour to horse farms in our community, looking for great prospects for you.  It is of no extra costs, but only for serious buyers.
Included (more info in your personal itinerary):
Program with riding tours for the number of days that you book.
Ticket to the horse show/event.
Picnics as described for the days that you book.
Accommodation, with a hearty breakfast that lasts you long into the day, as described in the exact description for the number of days that you book, at the Gimbur guesthouse.
Riding equipment, saddle, bridles, helmet.
Dinners, as described in the exact description for the number of days that you book.
Not included:
Flights to and from Iceland
Car transport
Alcohol beverages
Riding clothes: pants, boots, jacket, gloves and etc. We have a few sets of rain clothes but not many. I advice bringing rain proof rain wear (not water resistant) in case we get rain (most days in September are though usually without rain in our area), also very warm gloves that stay warm even if they get wet (expensive high-tech thin gloves are usually useless).  A fleece beanie or baclava that can fit under a helmet.  Woolen (or other warm material) underweat.   Remember that you can not bring used leather things that have been around horses (like leather boots) into the country because of disease risk. Only horse things that have gone through a full washing cycle in the washing machine can enter the country. But people also come on the rides simply in hiking boots, sneakers, or decide to buy a new set of riding boots, they usually get handy later anyway.  We provide helmets, if you want to bring your own it has to be a new unused helmet (well you have a reserve helmet at home then which can be handy).
Other meals than those you see in your tour description.
The Gimbur guesthouse has a great hot tub. We also have an indoor geothermal mineral bath (space for up to 10 people), that you can use as a free add-on to the tour days, we do need to know one hour prior to your bath so we can fill the bath.  You take your own swim suits and towels along.
The host at Gimbur is a great cook, and I could talk with her about if she would make dinners for you on some of the evenings while you are here. She has sometimes done dinners for her guests upon request. There are good restaurants in our neighbor towns (Hofsós, Sauðárkrókur, Siglufjörður), but of course they're a 15-40 minute drive from Gimbur.
I'd need 50 000 isk (for a short version of the tour) or 100 000 isk (for a long version of the tour) as downpayment in May, then you'd pay the rest upon arrival. It's paid through IBAN transfer in bank, or Paypal, whatever you'd prefer.  It goes towards paying accommodation for your tour so you show a really strong committment to actually doing the tour when you send the downpayment.
Participants need to fill in this information for me:
Name.
Height and weight estimate (it helps me choose horses for them).
Experience level (some details, like if it's with Icelandics or other breeds, and if only with other breeds, what kind of riding they've been doing, and some estimate on how much riding they've been doing… I don't expect expertise, this info just helps me personalize the tour and choose horses that are hopefully good for them).
Age estimation (especially if they're kids or teenagers).
If there is some extra they would like me to know (if they're scared, or prefer fast horses, or have a weak hip, food allergy, can't speak English and then if they speak Swedish or something I can make myself understandible in, etc etc, it can vary if or what people would like me to know).
Price etc:
These tours are done on a very personal level, choosing horses carefully for the riders, giving people the chance to try out even several horses if they're interested in that, having local guides and a lot of chat about whatever people are interested in learning more about, and generally simply being a group of friends having fun together.
The exact price depends on what days you want to join us, so feel free to contact us for more information.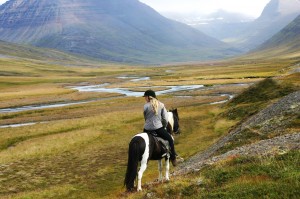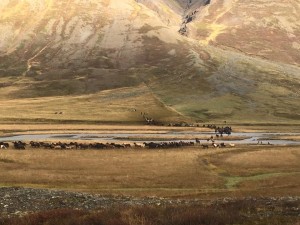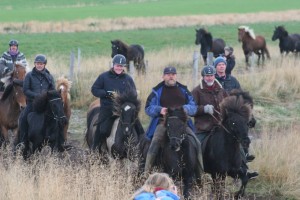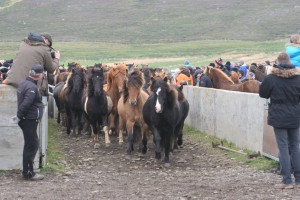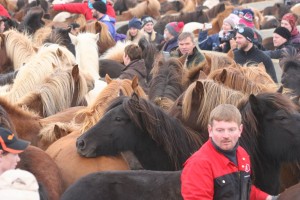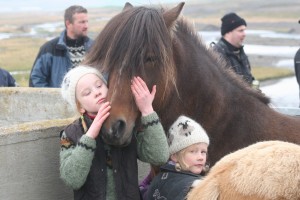 Fantastiskt att se alla hästar på väg ner till Laufskalarett

Posted by Frida Lindström on Sunday, 27 September 2015