Guided Trail Rides
We Provide Your Own Personalized Adventure
OPEN ALL YEAR ROUND.
Our life is horse tours.  It's been our passion, all our life. To go out in the nature and be a team with the horse.  To see the beautiful places, and sometimes tough landscape, that molded our beloved Icelandic horse. To have the companionship of other horse lovers, and to just live and breath the fresh air in the nature, and feel the rhythm of life.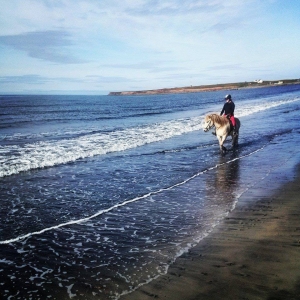 We offer guided horse tours with one of us, the local farmers at Langhus farm, and our assistant guides.  We have well trained horses, steady and obedient, they are our family and work horses, and some of them have been used for competitions, they are happy, well taken care of, and live a fulfilled life.  We take the time to match you with the right horse for you, and to give good instructions about riding so you can enjoy the tour better.  We keep this on a personal level, so people can see the Icelandic nature, the background of the horses and what made them what they are (the sometimes harsh and sometimes wonderful nature, the breeding, the people and the culture), get lessons if they want, get to know excellent horses and visit an Icelandic farm on the real countryside. We operate all year round.
We have several tour options to give ideas. But like when travelling friends are planning a trip, you can design the tour with us.  You choose with us which way you want to go, on what kind of horses, how long, how challenging, you can also come for several days on rides. We can help with accommodation, with other things to do when not riding, etc. Just feel free to contact us and we make something wonderful together, and more important, have fun.
Our groups are usually small and at the speed and difficulty that fits our guests.  But if you have a bigger group, then we can now accommodate groups of 15 riders, and in 2017 we can take bigger groups than that.
Also, it always takes a few minutes extra to prepare you for the tour, and it's not fun for you to be in a hurry. We do a little riding lesson before the tour itself starts, so if you are beginners you learn a bit about how to ride, and experienced riders learn how to ride the Icelandic horse. That is helpful and fun for everybody.  So, the whole visit here can easily take 30-90 minutes more than the tour itself. On the other hand, if you are on a tight schedule we can do the whole process in a fast way and focus simply on the ride itself.
Tour options:
THE BEACH RIDE (Best seller)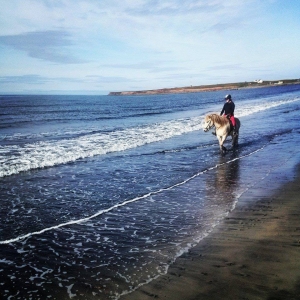 We ride through moors and gorgeous open landscapes, where there is a good opportunity to learn about the nature and the history of our area.  There is abundant birdlife on this trail throughout all summer, and one can see well how people's lives here are twined together with the nature in a beautiful way. This tour is ideal and popular for both beginners as well as for more experienced riders.  Duration of the ride is ca. 2 hours (and the whole experience can be ca. 3 hours).
THE VIKING TOUR (Best seller)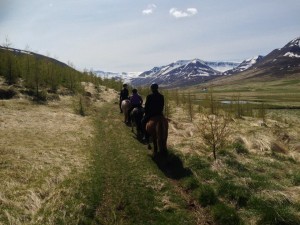 Riding the ancient and historic Icelandic horse is something you have to experience at least once in your life, the horse the vikings loved and rode proudly.   We ride in green valleys surrounded by striking mountains, and in a pretty forest with good views, in the magnificent Flokadalur valley.  And you can ask and hear more about the culture and everything your heart desires regarding Iceland.  This tour is ideal and popular for both beginners as well as for more experienced riders.
Duration of the ride is ca. 2 hours (and the whole experience can be ca. 3 hours).
This tour can be made as a longer trail ride (3 hours ride with a refreshments break, and the whole experience can then be ca. 4 hours).
THE ALL SORTS OF EVERYTHING TOUR (best seller)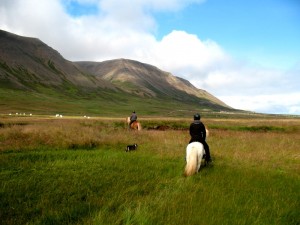 In this tour we combine experiences from several of our most popular tours, the beach ride, the viking tour, even the river ride.  We'll ride in a big circle,  through land with meadows, on the beach, go up the beautiful and striking Flokadalur valley, overlooking a lake and mountains and highlands, crossing a river one or two times, go at slow speed and faster speed, and take a good break for refreshments, chatting, and a bit of commentaries or questions, whatever your heart desires.  Good for both experienced riders and sporty beginners.
It's 3,5-4 hour total. (where the whole experience can be 4,5 hours).
HORSE ROUND UP TOUR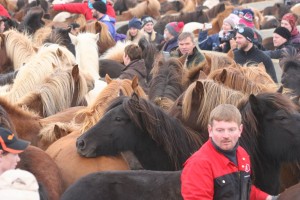 The Laufskalarett horse round ups are an event like nothing else.  We can go and become a part of everything on this famous day: We can ride in a big group of people to see and even join the people rounding up the 700 horses in the Kolbeinsdalur highland pasture, then we join the group of people (usually several hundred riders) that drive the horses to the corral.  In the corral the horses are, one by one, identified and put in their owner's part of the corral, while around 1000 horse enthusiasts watch, and chat with other horse people.  This day is one long fun adrenaline rush for horse enthusiasts.  The program for this tour is 3-4 days total (two days with riding tours, one day for exploring Iceland, and one day of round ups).
PERSONALLY DESIGNED TOURS – FOR TRAVEL RESELLERS AND GROUPS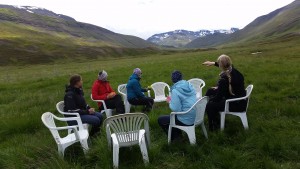 Are you a travel reseller, or planning for a small or big group and have vague or clear ideas about what you'd want them to experiences?  Do you want us to do something that fits especially for your group?  Bring on your wishes and we'll plan something fun for your group.
SIGLUFJORDUR MOUNTAIN ROUTE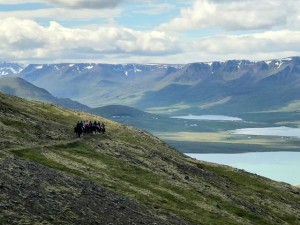 Going from almost sea level up to 630 m height, you really start appreciating how sure footed, sturdy, smart and careful the Icelandic horse is as it takes you safely and comfortably over landscape that is probably rougher than you've ever ridden in before.  We ride on an ancient and historic medieval trail on a mountainside.  The view is spectacular, and we go from the green lowlands up to a barren mountain landscape with heather and moss, up to an area so high that there is a tiny glazier there right on the trail on most years.  We also stop for refreshments on the way.  Duration 4-5 hours.
THE RIVER RIDE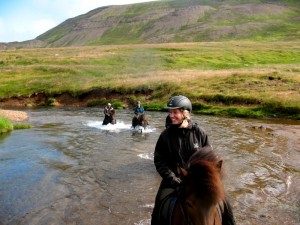 We do the trail described in the Viking tour, then ride through moors and meadows, and on the riverbanks of the Flokadalsá river, and cross it many times.  Our sure footed horses wade in up to 80 cm (2 1/2 foot) deep water without hesitation.  The river banks are full of atmosphere and tranquility, and crossing the river is a thrill.  This ride is fun for intermediate or experienced riders (you don't want to fall off into the cold water).  Duration of the riding tour is ca. 3 hours (and the whole experience can be ca. 4 hours).
This tour can be made as a longer trail ride (4 hours ride with a refreshments break, and the whole experience can then be ca. 5 hours).
AN HOUR'S GOOD TIME / LESSON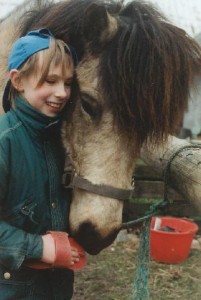 What are your ideas for an hour's time with our horses?
Do you have young beginner children and want to have a cool experience with them and the Icelandic horses?
Or want to get a lesson in the paddock, where you learn a bit about how to ride on a horse, and spend an hour with the horse, based on your wishes.  Experienced riders can get a lesson on the trail.  This is a cool option for very experienced riders that want an efficient private lesson with a very experienced horse trainer.
This is also fun for people that are maybe a bit scared and want a super safe and calm experience, and everybody else that want an hour's good time.
Lukka has been a teacher all her life and it's fun to meet your wishes.
Duration 1 hour.
THE WINTER PROGRAM (HORSES, TRAILS AND POSSIBLY AURORA).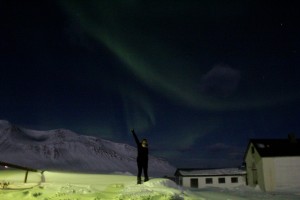 In December-April it varies a bit what trails are available.  The beach ride is available all through the winter, and a good part of the Viking tour, sometimes all of it.  You see the strongest Aurora borealis in Iceland, and in the world, here at Langhus, and we offer a package with a guesthouse in the neighborhood, where you can ride with us during the day, and possibly see the Aurora borealis from the warm indoor facilities in the guesthouse.  We are right in the middle of the aurora belt.  Be welcome here all through winter, and tell us your wishes, we will design a fun tour for you.
FARM VISITS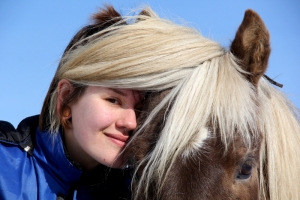 Meet the locals, hug the animals, ask about the farming or culture or whatever you want to know about life here.  Here is your chance to get the inside information on life on the countryside in Iceland, and hug the farm animals if you want to.  This is fun all year round, because in the wintertime most of the animals are stabled and close encounters are easier than ever, and in the summer time it is fun to visit the foals and other horses in the pasture.  We end with some local refreshments where you are our guest in the farm house kitchen and we have a good time together.  This is also a popular option if you have a group where some people want to do a riding tour and others want to have a fun experience without riding.  Duration 2 hours.
ICELANDIC COUNTRY LIFE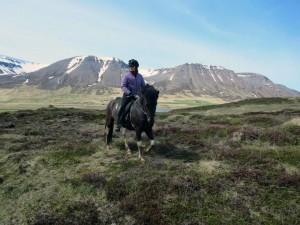 In this tour we combine two big experiences.  First we ride on easy paths where it is good to try out the famous gait tolt (the special gait of the Icelandic horse).  Then we do cool off road riding, where you really experience how sure footed these horses are, and how good they feel in the very uneven terrain our nature can offer.  We go up a steep mountainside with spectacular view and visualize how the locals round up the sheep from the huge highlands on these sturdy horses, and live with the beautiful nature here. We also stop for refreshments on the way.  This ride is fun for experienced riders, and sporty novice riders have enjoyed the ride a lot too. Duration of the riding tour is ca. 3 hours (and the whole experience can be ca. 4 hours).
This tour can be made as a longer trail ride, including the Viking tour trail (4 hours ride with a refreshments break, and the whole experience can then be ca. 5 hours).
THE WILDERNESS RIDE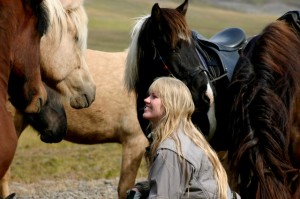 For 3 months each year, most of the young horses (1-4 year old)  from us and 2 neighbors, go to a remote highland pasture, to spend a big part of their youth in virtually absolute freedom, living the life of their wild ancestors.  We go and visit that area, which is so away from civilization and urban burdens.  The valley is long, with green meadows and surrounded by stark mountains, and we are reunited with peace and our roots.  We also stop for refreshments on the way.  This ride includes the Viking tour and River ride.  This ride is fun for rather experienced or very experienced riders (as it takes some stamina to ride for that long).  Duration usually 5 hours (so the whole experience can then be 6 hours).
This tour can be done so that we take the horses on a trailer (and you in our sturdy jeep, as the road is bad), bypassing the first part of the trail, focusing only on the real highland area, and then the riding tour is about 3 hours, including refreshments.  This version of the is fun for both sporty novice riders, and experienced riders, is thus ideal when groups have mixed experience levels.
COMBO TOURS FOR SEVERAL DAYS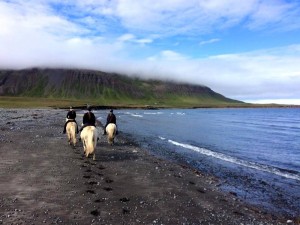 Do you love riding for several days?  We can make a package deal for you, on for example 3 tours on 3 days, where you can ride your heart out during the day, and relax in the comfortable accommodation of your choice in the neighborhood.  Choose your favorite rides and have fun.  Contact us for more information for us and from us.
Discounts:
A discount is given if there are 4 or more adult people coming as a group on a ride.
Children younger than 14 years old get a 30% discount.